Welcome to my website,
I was so excited to appear on Channel 7's Better Homes & Gardens with Dr Harry Cooper,
if you missed it check me out by Clicking Here

"Having a pig as a pet is something you must think about very deeply, yes research it,
because pigs are not dogs and they are certainly not cats, they are indeed a very different animal"
  Dr Harry Cooper
 As you can see by my stunning looks, I am a girl.
Here I am enjoying a cake smash on my 3rd Birthday, 18 December 2014.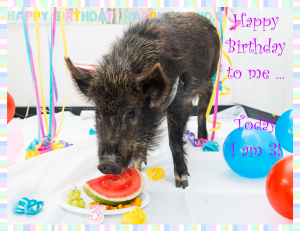 I have three Australian Miniature Goats as my best four legged friends,
their names are Arkie, Archie and Sally.
My best two legged friend is Ann.
 You will see what an unusual life I lead for a pig.  I have been busy with music videos,
TV shows, photo shoots, visits to the park and river, and entertaining with my tricks!!
I have even appeared on Australia's Got Talent.
 My website includes lots of hog bits of my life such as video clips and snapshots.
You will get to check out my baby pics (gosh I was cute).
Also where I have been living (not your average mudpit).
 I will share some "piggy facts" along the way (if anyone knows piggy facts, it's a pig)
and I will even let you know what it takes for my owners to care for little ol' me!
 Oh…..  and if you are looking for something different and special for your event,
why not give Ann or I a call.
 Ann loves training me and I love learning new things
……so if you have a unique idea, run it by us as we both love a challenge!
 Why not 'LIKE' my Facebook page
where you will find lots of fun and interesting things.
 Thanks for dropping by, I hope y'all come back soon.
 Hogs and Kisses
xoxoxoxo
COCO